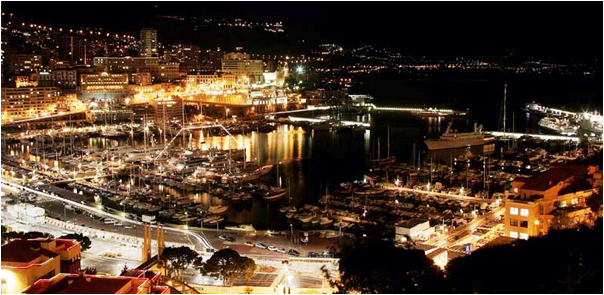 Hercules Port is a natural bay at the foot of the ancestral rock of the princes of Monaco.
It is one of the few, if not the only deep-water port of the French Riviera.
It was used as a trading port by the Greeks and Romans but had the disadvantage of being poorly sheltered from the easterly winds. This prompted the erection of two piers in the early twentieth century which went some way to providing better protection.

More recently, at the instigation of HRH Prince Rainier III, studies were conducted in the 1970s to better protect the stretch of water by placing, before the two existing piers, a new sea wall and a lee breakwater intended to provide the port with full protection from the swells of the eastern sector.

These studies were to lead to the construction of a colossal structure 352 metres in length and weighing 160,000 tonnes at the foot of the Rock of Gibraltar. It has the unique feature of being semi-floating in order to conserve the marine fauna and flora.

It was towed to the principality and moored at the foot of the rock. It was completed by a lee breakwater 145 metres in length.

The new sea wall also makes it possible to welcome major cruise ships (up to 300 metres in length).
Inside the original port, HRH Prince Albert II, who continued the work started by his father, wished to see the stretch of water undergo comprehensive redevelopment to make the port in Monaco the most modern and most practical marina in the western Mediterranean.
This redevelopment enable large and luxurious pleasure craft to be welcomed in response to the development of ocean cruising.